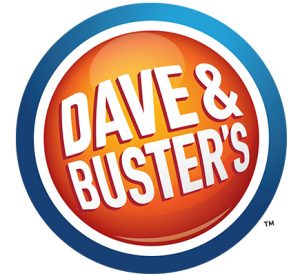 I love arcades!  It brings back fond memories of my childhood when my parents gave me a handful of quarters to play and it lasted a whole afternoon of playing pac-man, tetris and street fighter.  But eating in arcades back in the 80s and 90s was not an enjoyable experience at all.  Most of them only serve basic junk food that's poorly prepared like stale popcorn, soggy pizzas and dried out hot dogs.
My first experience with 
Dave and Busters
 (
$PLAY
) was my freshman year in college back in 1999.  We just finished our midterms and wanted to relax so a bunch of us decided to have dinner at Dave and Busters because it was close to our school.  It was my first time there so I didn't know what to expect.  The first thing I noticed was a guy checking IDs at the door.  I was wondering why they need to check IDs for just going to an arcade.  Once inside, I realized that there was a bar in the arcade!  Wow…that's pretty awesome!  Definitely geared towards the older teens/college kids and also parent's that brings their young ones.  So we decided to eat first before playing games.  Dave and Busters have an extensive tasty menu and definitely a far cry from the soggy pizza from the arcades I used to go.  The choice in entrees were great and no complaints from the bar either.
Then it was time to play games.  And just like the food, it was definitely a big difference since my childhood days.  Of course arcades has changed a lot since then.  Now most arcade games have more graphics and 3D effects that it captivates the player more.  The selection of games were huge and we ended up spending over 2 hours just gaming it up.  And forget about using quarters!  They use some sort of point system where you convert your cash to points and each game costs a certain amount of points.  It was a great way to set a spending limit but also it was bad at not knowing how much you're spending on a particular game.
Fast forward to present day . . .  Dave and Busters have grown from a few locations to over 73 arcades.  They still offer awesome games and great food.  I always take my cousins there to play and I still enjoy it very much as well.  I jumped on it when I heard Dave and Busters were going to launch their IPO.  At $16/share it was a heck of a deal.  I even purchased more stock when they had their secondary offering at $29.50/share.
I've been their customer for over 15 years and I've seen them improve year after year.  As a customer, I was very happy with the entertainment and food that Dave and Busters offer.  I know they have great potential to expand further.  As an investor, I'm more than happy at the way they're improving and expanding their company.  And of course I'm super happy since $PLAY is at $31+/share now.